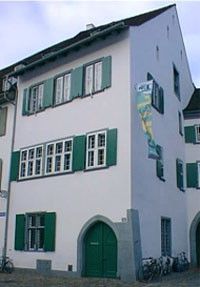 History
The history of the Institute of Social Anthropology begins in 1917 with Felix Speiser as the first associate professor of Anthropology at the University of Basel. From 1942 to 1949 Speiser was also director of the Museum für Völkerkunde Basel (today Museum der Kulturen).
His successor, Alfred Bühler, was appointed associate professor in 1950 and first full professor of anthropology in 1959, remaining in this position until his retirement in 1970. In addition, like his predecessor, he was director of the Museum für Völkerkunde from 1950 to 1964. Connected with the establishment of the chair was also the founding of the Institute of Social Anthropology in 1963 with its own assistant, a secretariat and a library credit.
The premises are located in a gothic, listed building called 'Schürhof' on Münsterplatz. In the immediate vicinity is the Museum of Cultures, with which the seminar works closely and maintains a joint library.
After Bühler's retirement in 1970, Meinhard Schuster became full professor of Anthropology at the University of Basel and shaped the subject until his retirement in 2000. Under Schuster, Central and South America and, from 1990, West and East Africa were added to the already existing regional research foci of New Guinea and Southeast Asia. The establishment of medical anthropology and the introduction of mandatory museum or other professional internships also took place under his leadership. During the period from 1970 to 2000, Anthropology enjoyed increasing popularity. Student enrollment doubled from 42 to 100 students between 1970 and 1974, and reached its peak in 1994 with 222 students. The subject was particularly well known and popular for its biennial field research exercises, mostly within Europe.
From 2001 to 2022, Till Förster has held the Chair of Anthropology and is the founding director of the Center for African Studies at the University of Basel. He studied anthropology and art history at the Universities of Mainz, Bonn and Cologne and received his PhD from the University of Berlin in 1985.
Förster specialized in visual culture and political transformations in West and Central Africa. He has been conducting research in northern Côte d'Ivoire and Cameroon for many years and headed the two research groups Political Anthropology and Visual Culture.
Under Förster, field research exercises have increasingly taken place in countries of the global South and are an elementary component of the MA Anthropology. In recent years, for example, students have conducted research in Burkina Faso, Zambia, Colombia, and China.

Gegenwart
Since July 2022 is George Paul Meiu the new Chair of Anthropology.