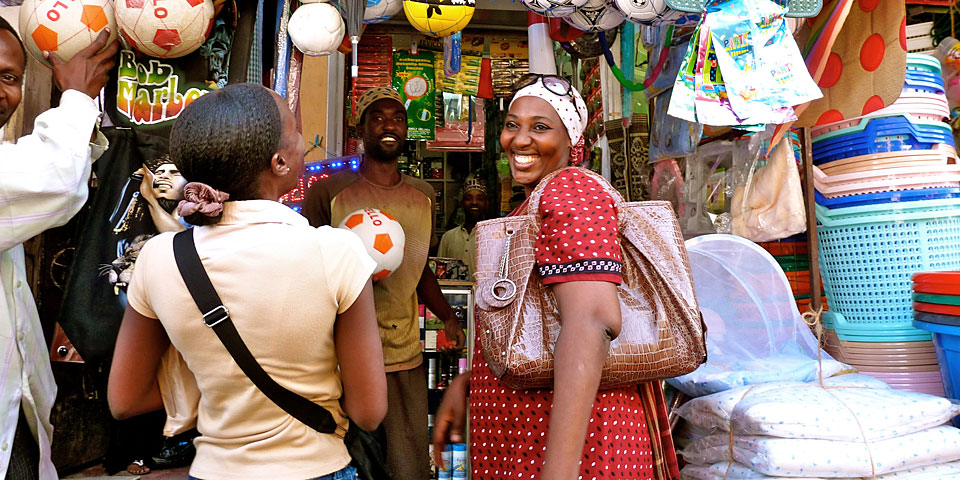 The Master's Degree Program in Anthropology, which is taught in English, combines the scholarly traditions of social anthropology in the UK and cultural anthropology in the US. The program prepares students for an academic or applied career in an international professional field. At the University of Basel, students focus on the research areas of political anthropology, visual culture and medical anthropology. The heart of the MA in Anthropology is the ethnographic research project, which includes a six-week field trip in a region of the global South.
Focal areas of teaching and research
Teaching has a regional focus on sub-Saharan Africa, supplemented by courses on Latin America, Oceania and Southeast Asia. Topical courses cover our research specializations in political anthropology, urban anthropology, visual studies, media anthropology, and medical anthropology. Key elements of these research fields include globalization, intercultural and transcultural studies, migration and social/ethnic conflicts. 
The Institute of Social Anthropology cultivates strong interdisciplinary and international ties, and cooperates with institutes located in several African countries and Indonesia. All teachers are also involved in research groups and projects, ensuring lively exchange between research and teaching.
At master level, the students deepen their knowledge of theories and topics in anthropology and the associated research methods. The heart of the Master's Degree Program in Anthropology in Basel is the ethnographic research project, which includes a guided and subsidized field trip. During this course (2 semesters, including 6 weeks of fieldwork abroad), the students will conduct their own research project guided by experienced researchers.
Language skills
Courses are taught in English. Although no certificate is required, advanced English skills (level B2 or better) are needed for successful completion of the degree.
Program structure
A master's is a second degree that a person can earn after completing a bachelor's. The master's program requires a total of 120 credit points (CP). The Master's Degree Program in Anthropology is combined with a second degree subject, each worth 35 CP. The subject in which students write their master's thesis (30 CP) is considered to be their major; the other subject is their minor. Free electives (20 CP) are also included. One ECTS credit point equates to approximately 30 hours of work.
Master of Arts (120 CP)
Major of the Faculty of Humanities and Social Sciences
65 CP (35 CP + 30 CP for the master thesis)
Minor of the Faculty of Humanities and Social Sciences
or extra-faculty
35 CP
Free electives
20 CP
Two degree subjects
Combination of subjects
Students are free to select a second master's degree subject that meets their specific interests. Students can choose a subject offered by the Faculty of Humanities and Social Sciences or a subject from another faculty. Anthropology is a particularly useful subject to combine with any discipline dealing with societies and their cultures or cultural subsections (such as art or language) or with human actions, norms (law), history, and their natural environment. 
Students are free to choose any free elective. These courses allow students to deepen their knowledge of their degree subjects, gain an insight into other degree subjects offered by the University of Basel, or acquire language skills.
Career opportunities
Graduates in anthropology are characterized by a high degree of sensitivity to cultures and societies, and their ability to respond to different situations and individuals. Key qualifications arise in particular from the practice of field research, where methods such as participation, observation, recognition, understanding and communication play a crucial role. This qualifies them in particular for professional activity in development cooperation, migration and refugee assistance, NGOs (e.g. in integration work and intercultural communication), but also assignments to international organizations, e.g. as delegates or administrators of the International Committee of the Red Cross. In addition, our alumni find employment in tourism, art trade, cultural management, teaching and research, or museums. As humanities and social science graduates, further career opportunities are available to them in the areas of media, PR and marketing, fundraising or adult education.
Master's admission requirements
Admission to master's programs is regulated by the university student regulations and the stipulations of the individual degree program descriptions. More details of the general master's admission requirements are provided here.
For students to be admitted with no additional requirements, they must hold a bachelor's degree worth 180 CP from a higher education institution recognized by the University of Basel.
Subject-related requirements are defined in the admission requirements (section 3) of the study program for the relevant subject. The guidelines may also contain further useful information that is key to successful studies.
Registration dates
Students must register for their bachelor's or master's degree program within a specified timeframe – even in cases of delayed registration.
Information events
The University of Basel organizes regular information events for bachelor's and master's programs. Details can be found on the <link de fakultaet aktuelles external-link-new-window internen link im aktuellen>events page of the Faculty of Humanities and Social Sciences. 
Some subject areas also offer their own separate information or welcome events. Please consult the page for the relevant subject area for event dates and locations.
Something went wrong when loading the content. Please check the settings of the "Load Content" Plugin.
Master's examination & degree
From the fall semester 2019, the revised framework regulations for the Master of Arts will apply. Registration for the master's thesis is independent of registration for the master's examinations. It is now also possible to examine only one subject per session, i.e. the two master's examinations can be divided into two sessions (attention: only for master's degree subjects, it is not possible to separate the two examinations for study programs). New registration deadlines apply for the master's examinations, these have previously taken place at the same time as the registration for the master's thesis.
From the registration in spring semester 2019 onwards, the same acceptance and submission date (last date of the registration deadline) will apply to the master's thesis for all students.
Master's thesis
| Semester takeover, submission  | Takeover SS 2021, submission SS 2022 | Takeover FS 2021, submission FS 2022 | Takeover SS 2022, submission SS 2023 | Takeover FS 2022, submission FS 2023 | Takeover SS 2023, submission SS 2024 |
| --- | --- | --- | --- | --- | --- |
| Registration form available from | expired | expired | 04.04.22 | 03.10.22 | 03.04.23 |
| Application Master's thesis | expired | expired | 02.05.22 - 20.05.22 | 31.10. - 18.11.22 | 02.05.* - 22.05.23** |
| Takeover date | expired | expired | 20.05.22 | 18.11.22 | 22.05.23 |
| Submission date | 21.02.22 | 18.08.22 | 19.02.23 | 17.08.23 | 21.02.24 |
| Submission of Master's thesis confirmation form | by 28.02.22 at the latest | by 24.08.22 at the latest | by 25.02.23 at the latest | by 24.08.23 at the latest | by 28.02.24 at the latest |
| Review submission by lecturers | 17.06.22 | 20.12.22 | 19.06.23 | 20.12.23 | 19.06.24 |
| Notification of grades and review inspection | by 31.07.22 at the latest | 31.01.23 | 31.07.23 | 31.01.24 | 31.07.24 |
Master's examinations for students of the degree subject and program
| Semester | SS 2022 | FS 2022 | SS 2023 | FS 2023 | SS 2024 |
| --- | --- | --- | --- | --- | --- |
| Application forms (degree subject / program) available from | 24.01.22 | 22.08.22 | 23.01.23 | 21.08.23 | 29.01.24 |
| Application deadline for examination | 21.02. - 04.03.22 | 19.09. - 30.09.22 | 20.02. - 03.03.23 | 18.09. - 29.09.23 | 26.02. - 08.03.24 |
| Examination session | 30.05. - 03.06.22 | 19.12. - 23.12.22 | 26.05. & 30.05. - 02.06.23*** | 18.12. - 22.12.23 | 27.05. - 31.05.24 |
| Notification of grades | 13.06.22 | 16.01.23 | 12.06.23 | 12.01.24 | 14.06.24 |
Application for MA degree documents
Semester
SS 2022
FS 2022
SS 2023
FS 2023
SS 2024
Application deadline for degree
(Application form)
13.06. - 12.08.22
16.01. - 17.02.23
12.06. - 11.08.23
15.01. - 16.02.24
17.06. - 09.08.24
Graduation ceremony
17.09.22
25.03.23
16.09.23
23.03.24
21.09.24

All data subject to subsequent changes.
*01.05.2023 is public holiday (Labor Day)
**18. & 19.05.2023 are public holidays (Ascension Day)
***29.5.23 is public holiday (Whit Monday)